The Open Dutch Laser Master Championship 2020 will be held in Hoorn from 18 – 20 september 2020. You can sign in for this event on: https://www.wsvh.nl/odsc-laser-2020/
Note: The Dutch Laser Master Championship 2021 will also be held in Hoorn 13 – 16 may 2021.
This is a Laser strict One Design event.As the organization of the Open Dutch Laser Master Championship 2020 strongly believes in the Laser Class strict One Design*, we urge you to participate with a Laser which complies with the International Laser Class Association Handbook Constitution and Class Rules 2019 or earlier. See: http://www.laserinternational.org/wp-content/uploads/2019/01/Handbook_2109.pdf . Only Lasers build up to the end of 2019 – representing hull/sail number below 217 250 are One Design compliant. Newer boats, to be compliant, need to be from a Builder approved by The Laser Class (www.thelaserclass.com), which includes an inspection done by a TLC Technical Officer to ensure that it meets the TLC One Design principles.  In fact, PSA has publicly indicated that they recently made changes to their Laser boat.  These changes make ILCA PSA boats non-compliant.

* Quote from the ILCA Handbook – Laser Class Rules – One Design: "One of the attractions of the Laser for most owners is that the class rules are very strict and that the boat is one design. The Laser philosophy incorporated in the rules is that we want to go sailing, not waste time fiddling with boats. We want to win races on the water using our skill, not by trying to find a way round the rules that will give us an advantage. The class rules are written to prevent any changes from the standard boat that might affect performance, so that on the water each boat is the same."
Let op! Controle door het watersportverbond
For Dutch sailors: Beste Laser zeilers, Als je aan zeilwedstrijden mee wilt doen dan dien je aan verschillende eisen te voldoen. Zie: wedstrijddocumentatie-zeilen   Conform nationale bepalingen bij RvW 46 en 47 dient het wedstrijd comité zich ervan te overtuigen dat aan deze verplichtingen zijn voldaan. Zeilers die niet aan de verplichtingen voldoen zullen derhalve helaas niet mee kunnen doen aan het ONK Laser Masters.
Dutch Laser Master Champions 2019
Dutch Laser Master Standard Champion 2019 Serge Kats from sailing club RZV and Dutch Laser Master Radial Champion 2019 Ian Jones from sailing club Dovestone Sailing Club.
Check also the results and image pages from the top menu.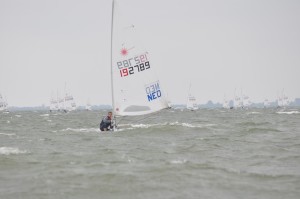 Foto's: Marianne Lenos